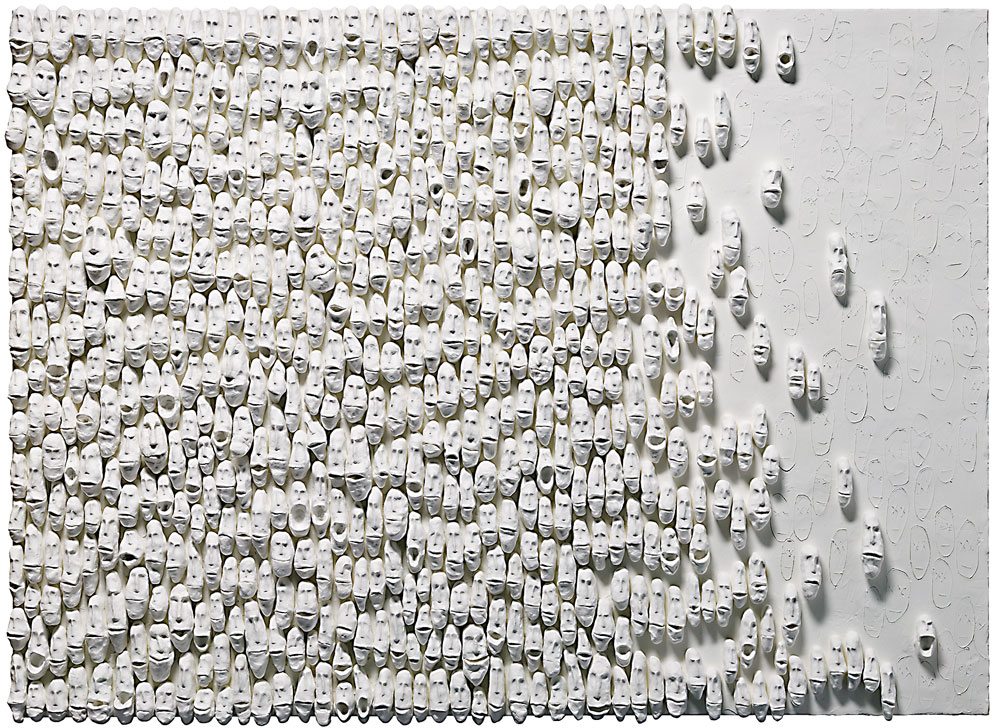 Heads
145x105x8 cm
sculptural painting
2016
Vote for this artwork! Please click Facebook like, Twitter, Pinterest and Google plus
Vota questa opera! Clicca Mi piace su Facebook, Twitter, Pinterest e Google plus

AINO  (Baden  – Germany) born in 1985 in Russia, AINO lives and works between Heidelberg and Berlin in Germany.
She studied Architecture in Russia and Germany and has exhibited Worldwide including the ARTMUC, C.A.R., ART BASEL and ART BASEL MIAMI. A winner of international competitions, AINO's works belong to private and public collections in many countries.
Statement
architecture of the mind is the basis of AINO's artistic expression:
Influenced by the study and profession of architecture, the artist's perceptions and mental images are transformed and embodied in a specific material form, thus creating more than only an object of a certain aesthetic value.
The subject is investigated as a phenomena, considering its purpose in a distinct context and allocation in the fundamental organization of a system. The hypothesis of abstracting and scaling are thus often used as a thought process and composition principle.
Abstract ideas, impressions or real experiences conveyed into metaphors. Depending on the subject it can be the selected technique, material or the actual processing itself serves as a symbol. This approach results in innovation of new techniques, the use of conventional substances in a non-conventional approach: or a fascinating process of a permanent exploration.
Almost all of the works are composed three-dimensional, turning into sculptural objects hence working with and within the confined space.
As a careful systematic observer, with unbiased judgement, the artist is not trying to give away any answers. Her work is purely more about forming the right questions, raising the urge to reconsider the preconceived notions, a way of reaching a balance within a system.

Vote for this artwork! Please click Facebook like, Twitter, Pinterest and Google plus
Vota questa opera! Clicca Mi piace su Facebook, Twitter, Pinterest e Google plus