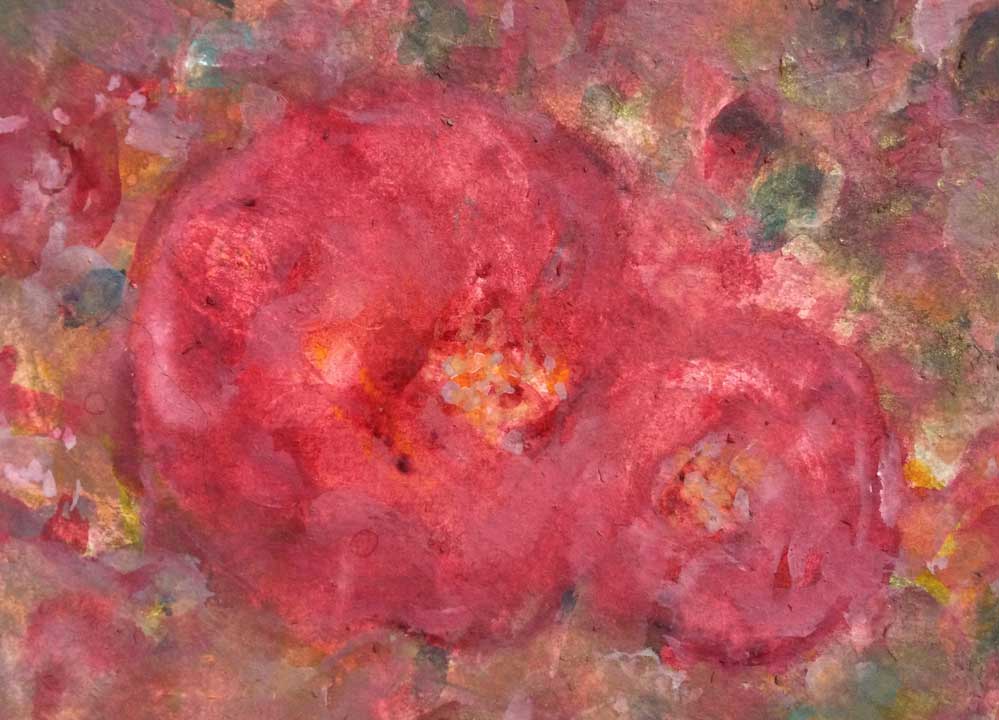 Rose de Paradise
2015
tempera and watercolor
10 x 15 cm.
Aase Birkhaug (Bergen, Norway ). Believing that surroundings can influence one` s health and mind, Painter and Physiotherapist Aase Birkhaug has combined her two passions by painting roses for a soothing effect on humans.
I am compared to the Mexican artist Frida Kahlo who said " I paint flowers so that they shall not die " and I say" I paint Roses so that I shall not die". The impact on humans from nature, flora, botanics and for me the most beautiful flower "The Rose."
We often search for answers to our questions and believe the complicated answer to be the solution to the complicated question. It is not always like that, if we use the words of the English Association of Healers: Healing is gentle, simple and effective.
Having fallen in love with flowers, nature and painting from early age, it was only natural to merge these factors together at some point, and by combining the aesthetic beauty of botany with her skills as a painter.
It is documented that colors have an effect on the sensory system, and some years ago I made the waiting room in my physiotherapy office into an exhibition for my paintings, so I discovered that it influenced the patients mental state.
My paintings are regularly described as very soft and mild. The color combinations I use are tastefully and delicately fused to make a motif that can be described as very soothing to the eye.
I discovered several years ago that Roses have a positive effect on me, almost like a "healing", and the combination of the smell and the sight feels like a meditation, bringing about a certain calmness, which is something I try to reflect in my paintings.
I do my paintings in different media – Aquarelle – Tempera – Gouache – Oil – Acrylics and Pastel.
I have had exhibitions both in Norway and several countries abroad, internationally during the years 1990 – 2020. Approximately 95 international art exhibitions and art Biennales in the period 2016 – 2020.
The most important
1. Palazzo Rosso Genova Italy 2016 – Una Rosa e Una Rosa – 2 months
2. Amsterdam Whitney Gallery New York 2016 – 2017 – 2018
3. Florence Biennale 2017
4. Solo Exhibition Rome Italy 2018 – "The Rose Garden" at Galleri Il Collezionista
5. Chianciano Biennale 2018
6. Hageumung Museum South Corea Art Festival 2018 – 2 months and permanent.
7. London Art Biennale 2019
8. Solo Exhibition Fana Culture House 2019 – The Rose Garden Bergen Norway
Since 2016 I have received 93 international art awards and international art prizes.
I have received many international art critics from known international art curators during the period 2016-2020.
A long list of publications as articles and books about my art published internationally the last three years as well in Switzerland, Monaco, Canada, Italy, London UK, Germany, Netherlands, Marocco, France, Middle East, Denmark, USA, New York, Miami, Los Angeles, Philippines, Dubai, Argentina and Norway.
WEB: www.aasebirkhaugart.com
Facebook: /aasebirkhaugart
Instagram: @aasebirkhaug

Vote for this artwork! Follow Biancoscuro Art Contest on Facebook and Instagram then click like!
Vota questa opera! Segui Biancoscuro Art Contest su Facebook e Instagram quindi clicca like!