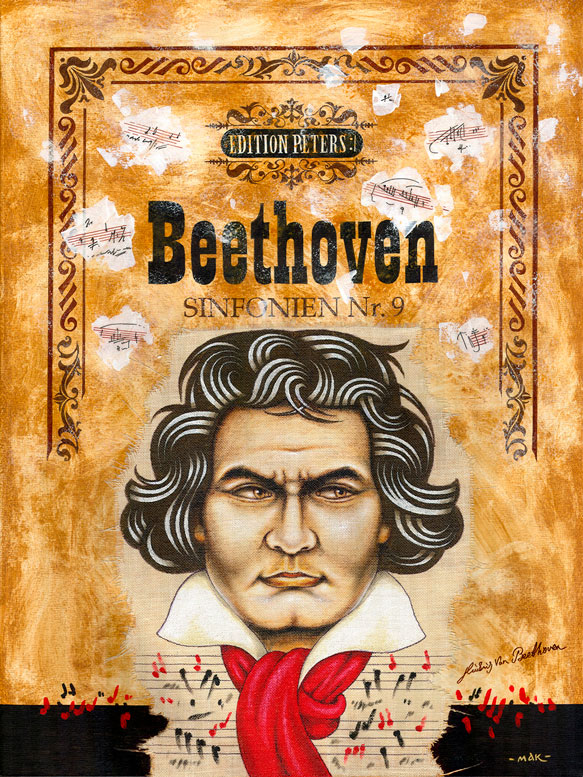 –
BEETHOVEN
36″ x 48″
acrylic
2019
Alexander Makarenko (Lilburn – Georgia). was born and raised in Ukraine. Graduated from the Ukrainian State University, the School of the Art Department. Thanks to his persistence and the public acknowledgement he becames a professional artist, painter and successful graphic designer. He was elected Сurator of the Art Counsel Regional Department. In the middle of ninetieth he was forced to leave his country and now resides in Atlanta, Georgia.
He has had 2 solo and 27 group exhibitions in the USA, France, Finland, Italy, Poland, Germany, Austria, Russia, and Ukraine, among them ArtExpo New York 2017. His works belong to private and public collections in USA, Italy, Singapore, Switzerland, Poland, and Ukraine. He is an awarded by Bronze Medal, First and Second Prizes and numerous Diplomas artist.
Now he is involved in the implementation of a large and ambitious project to create a gallery of portraits of famous personalities who no doubt enriched modern civilization. His goal is to depict philosophers and thinkers, scientists and discoverers, writers and composers. His painting is far from academicism and rather ornamental-decorative fine art in nature. This project is at the very beginning of its development. He titled this gallery "LUMINARIES".

Vote for this artwork! Follow Biancoscuro Art Contest on Facebook and Instagram then click like!
Vota questa opera! Segui Biancoscuro Art Contest su Facebook e Instagram quindi clicca like!