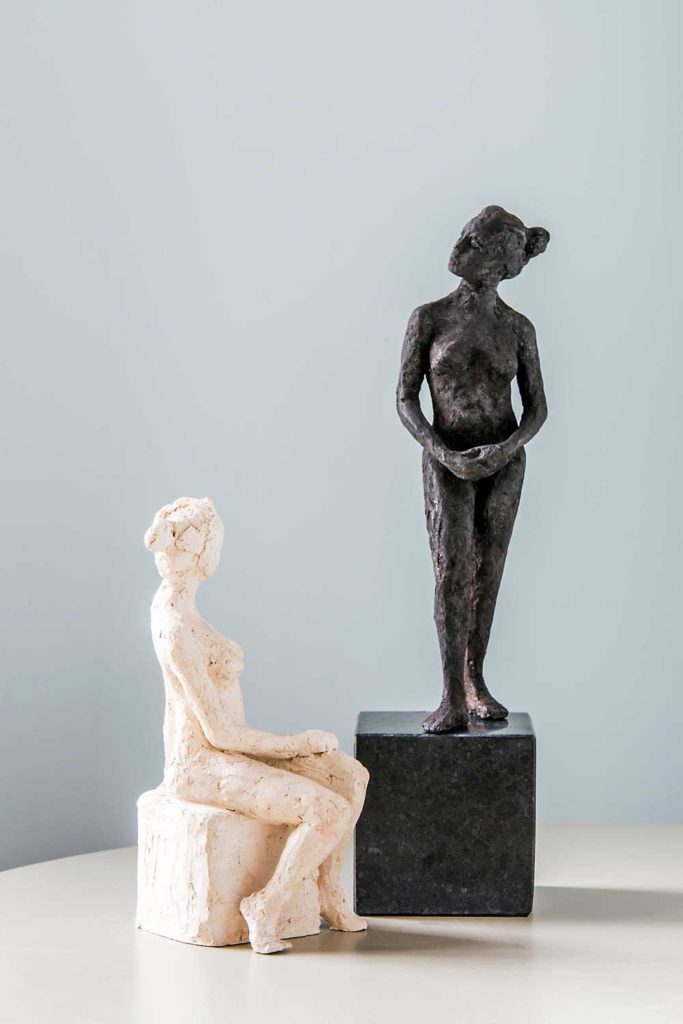 Lr-102
bronzo
2017
Vota questa opera! Clicca Mi piace su Facebook, Twitter, Pinterest e Google plus

Alexandra van der Leeuw (Amsterdam  – Netherland)​, was born in the Haque the Netherlands.
She lives and works between the Haque, Amsterdam and Venice, her beloved residence.
Alexandra van der Leeuw, a multifaceted artist, painter and renowned sculptor, attended the Amsterdam Fashion Academy from 1981 to 1084. Inspired by the famous Dutch Couturier Frans Molenaar during an intense internship, she started her own atelier in the heart of Amsterdam. During the following years she designed couture collections for her costumers with great success.
In 2002 her life changed and decided to move from fashion designing to sculpturing and attended the Academy of Fine Arts in Laren, north Holland. Studying the nude supported by the knowledge of anatomy and in due course she developed her own style by searching for a moreover figurative line, challenged by where perfection ends and meets imperfection, which contributes to the final composition.
Alexandra works in various themes, although she seeks the experience of the moment without focusing on a single concept. She works in stone, bronze, terracotta, wax, gypsum, iron wire and experiments with materials such as synthetics and mixing glass with pigments. Her work has been described as 'metaphysical' as her figures seem to become alive any moment.
In 2010 Alexandra travels between Holland, Italy and France and starts making oil and pastel portraits led by several tutors.
Multicultural society of the Haque, open mindedness of Amsterdam, artistic atmosphere in Paris and turquoise water palette of Venice are a great source of inspiration for Alexandra. Numerous critics and specialised magazines have been interested in her art, by reviews of her works. She has attended various art fairs and exhibiting at numerous exhibitions; Art Bergamo, Art Piacenza, Art Parma, Contemporary Fair of Forli, Art Cremona, Art Monaco and other important exhibitions in Paris, Venice, Rome, Florence, Pescara and Milan.
Her works are part of important public and private collections in Holland, Italy and abroad as to in Canada and Monaco.
She has been awarded by numerous prizes including the recent Oscar Trophies for art received at the Côte d'Azur in 2016, Monaco's Monaco Prize, Golden Lion for Arts in Venice 2017 and 1st Trophy award in Cannes 2017. One of her works 'Walking Lady with cloth' was published on the cover of Galleria Italia, Magazine edited at the occasion of the 57th International Biennial Exposition in Venice 2017.
It's scheduled for 2018 a documentary on her work as a Venetian artist in 'Studio 2091', in Santa Croce.

Vote for this artwork! Please click Facebook like, Twitter, Pinterest and Google plus
Vota questa opera! Clicca Mi piace su Facebook, Twitter, Pinterest e Google plus