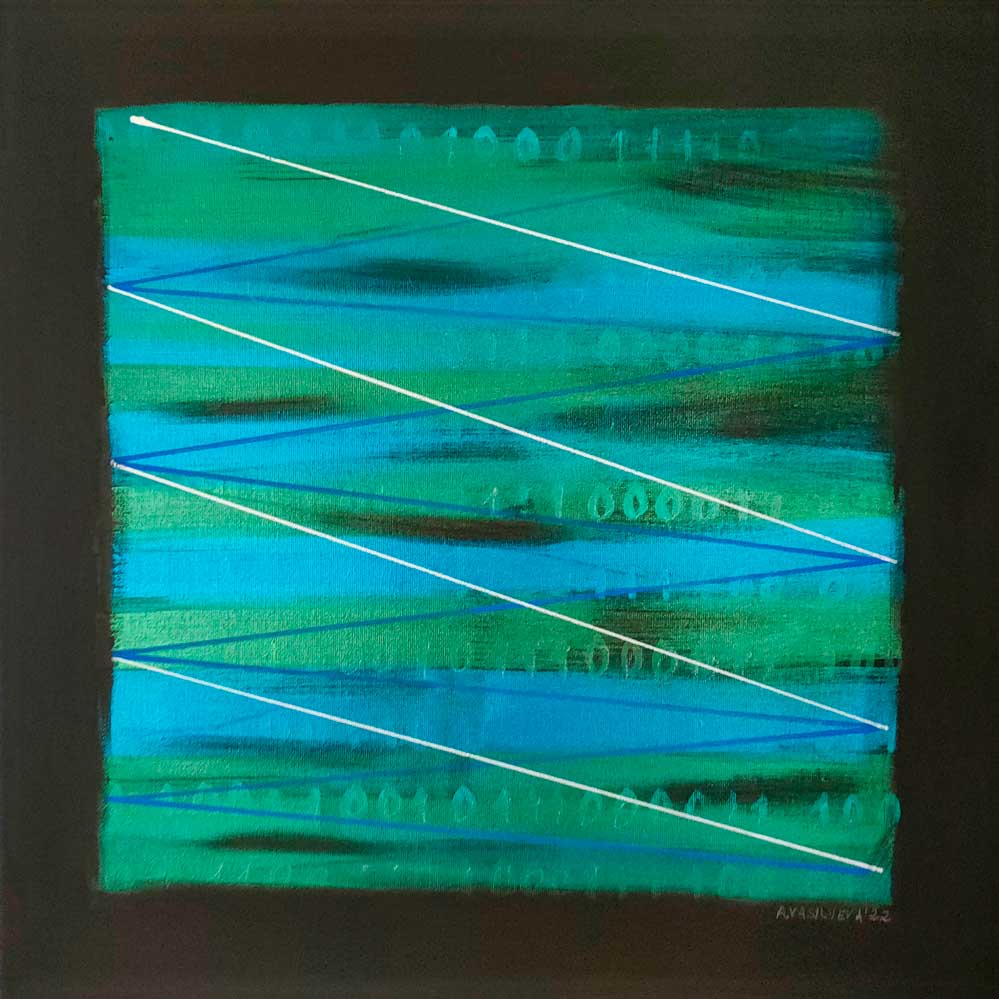 Encrypted connections
2022
acrilico e pigmenti su tela
60x60x1.8 cm.
"My art is a manifesto of gratitude to science for all the innovations of our modern world."
Anastasia Vasilyeva (Lucerne, Switzerland) is a contemporary artist living in Switzerland who pushes her viewers into the world of scientific art.
She fills her paintings with many symbols and endless details using her own signature painting technique. By mixing basic colors of acrylic paint directly on the canvas, Anastasia creates combinations of meditative colors. At the same time, she complements the paintings with various formulas, pouring her expressive nature into the artwork. Each work surprises the viewer and pushes them to unravel codes and formulas.
Anastasia holds a certificate from MoMa. Since 2018, her paintings have been presented at exhibitions in Europe and the USA. She is an active art blogger with a YouTube Channel and the winner of art competitions organized by Artbox Gallery in Zurich.
Selected exhibitions and projects:
2021 – Swiss Art Expo, Zurich, Switzerland
2021 – The project EATH 2021, Darwin Museum, Moscow, Russia
2019 – Miami Art Week, Wynwood, USA. Presented by Artbox Project MIAMI2.0. Semi-finalist 2019 – Art in Florence, Florence, Italy
2019 – Swiss Art Expo, Zurich, Switzerland
2019 – Narva museum of art, Narva, Estonia
2019 – Contemporary Art Fair Innsbruck, Austria
2019 – Art in Madrid, APPA art gallery, Madrid, Spain
2016 -Artefix Gallery, Sempach, Switzerland
Selected Publications:
2019 – Jenny-Rose Zenklusen "Anastasia Vasilyeva presents unique science art at the SWISSARTEXPO";
2019 – ARTBOX Projects Gallery "Artist Catalog Anastasia Vasilyeva, Science Art";
2020 – Karrie Ross "Our Ever Changing World: Through the Eyes of Artists ~ Book 11: Artist,
Art & Story: A Moment in 2019; International"
Instagram: @anastasiavasiljeva
Web: www.scienceartstudio.com

Vote for this artwork! Follow Biancoscuro Art Contest on Facebook and Instagram then click like!
Vota questa opera! Segui Biancoscuro Art Contest su Facebook e Instagram quindi clicca like