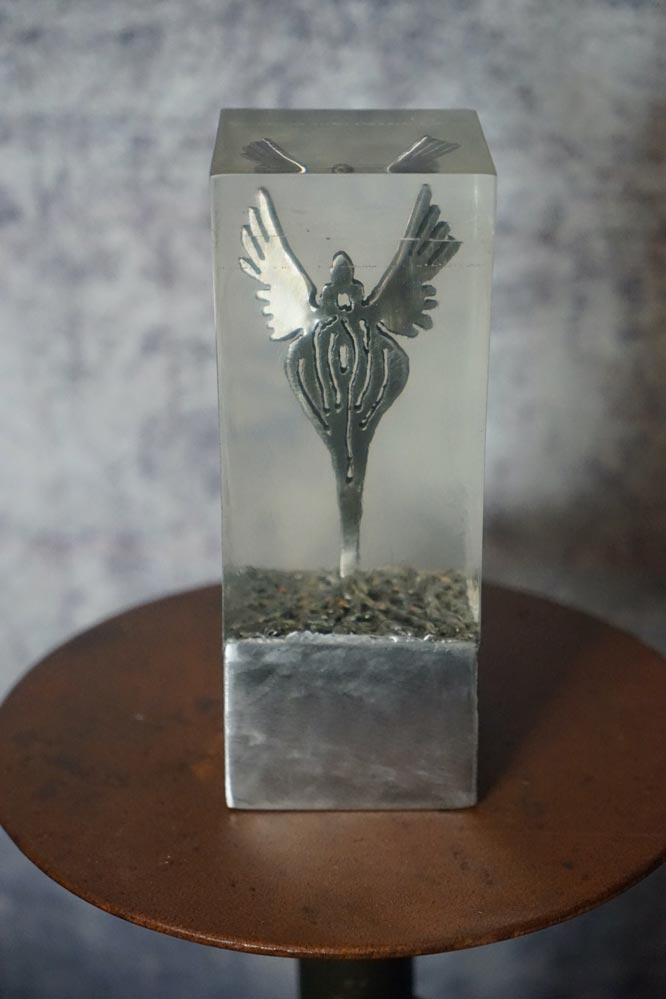 Flying Pussy
2020
Acciaio inox sotto resina (Epoxy Edelstahlkombination)
9x9x23 cm
ART IS VERY IMPORTANT FOR ME AND US PEOPLE OFTEN KNOW OFTEN NOTETTE HOW IMPORTANT ART IS FOR YOU UNTIL YOU NEVER HAVE IT WITHOUT ART MUST LIVE !!!
Bernhard Witsch (Telfs – Austria). Born on March 30, 1961, I was baptized without my consent, but to my complete satisfaction in the name of Bernhard Witsch.
This happens in Telfs, where I still live and work. Speaking of work: After many years as a skilled machinist I decided a few lenghts ago, my knowledge and skills to put all metal into the service of art in terms of metal. So art has become my life (and my bread, but no matter).
Numerous exhibitions keep me and my creativity on a trap. Inland: Vienna, Innsbruck, Igls, Landeck, Ladis, Telfs, Bad Hall, Salzburg, Imst, Reutte, Seefeld, Feldkirch, Walchsee, Hall, Mieminig, St. Pölten etc …. Abroad: Switzerland, Germany, Italy, Holland and the Czech Republic. Permanent exhibitions: Galerie Sailer – Innsbruck
Kreativewerkstatt'l LebensART – Hall
Gallery Einberger Hopfgarten
Gallery Artinnovation – Innsbruck
Sculpture garden – Pettnau
2007 Winner of the Southern Bavarian Sculpture Competition
2016 Merit winner at Plam Award
2016 2nd place Artavita – California
2017 As part of the Venice Biennale in Palazzo Mora
2017 Member of the Professional Association for Sculptors
WEB: www.art-by-wb.com
Facebook: Bernhard Witsch Rostbaron
Instagram: @art_by_bernhard_witsch

Vote for this artwork! Follow Biancoscuro Art Contest on Facebook and Instagram then click like!
Vota questa opera! Segui Biancoscuro Art Contest su Facebook e Instagram quindi clicca like!