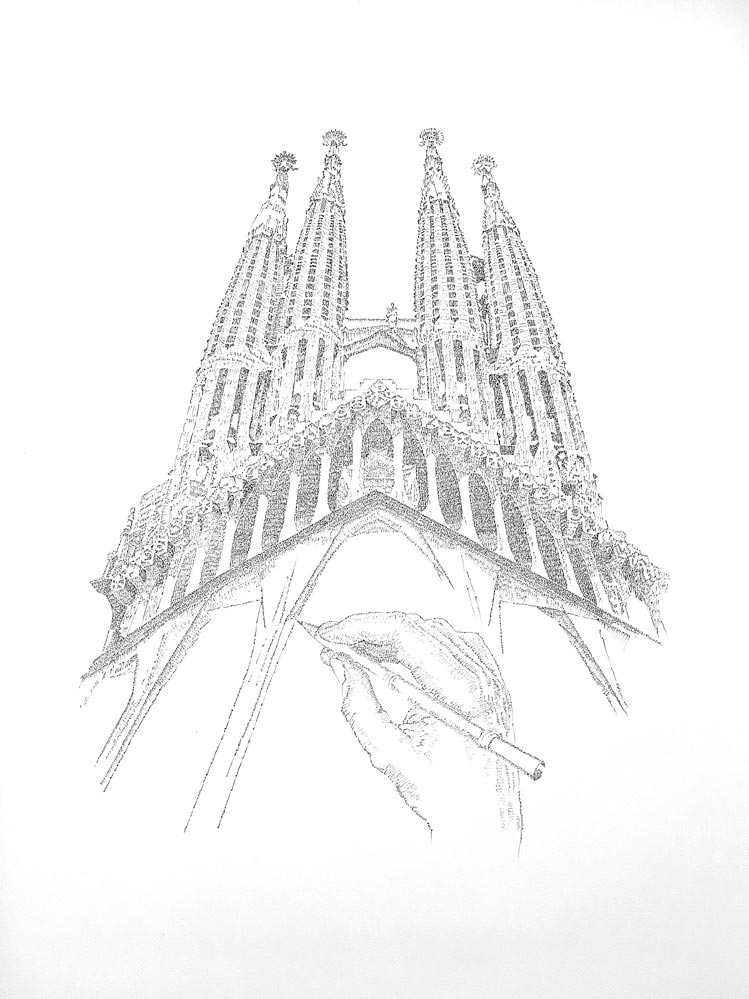 La Sagrada Familia
2020
handwritten, ink on paper
80×60 cm.
Chris van Weidmann (Felsberg, Switzerland). I began learning calligraphy at the age of ten. I immediately fell in love with the feeling of artistic craftsmanship, the brush strokes, the majestic architecture and, most of all, what can be created with the power of words through calligraphy art. When I was given my first calligraphy book, I discovered the diverse font selection from which one can choose to portray the same letter in so many distinct ways, and that, if illustrated correctly, everyone could read these remarkable typefaces. I was fascinated by this, and it is this enchantment that drives my passion for practising these individual styles. I've discovered my own techniques along the way, where I've pushed the limits of words to create a compelling message within my images. With my artwork, the story unfolds only when you are submerged within the piece. It is crucial for me to work with topics everyone knows – themes that are easy to understand: human values, stories about life, or thematics that are self-evident. It is fundamental that my creations broach noteworthy subjects that are uniquely deserving of our appreciation.
WEB: www.chrisvanweidmann.com
Facebook: /Chris van Weidmann
Instagram: @chrisvanweidmann

Vote for this artwork! Follow Biancoscuro Art Contest on Facebook and Instagram then click like!
Vota questa opera! Segui Biancoscuro Art Contest su Facebook e Instagram quindi clicca like!