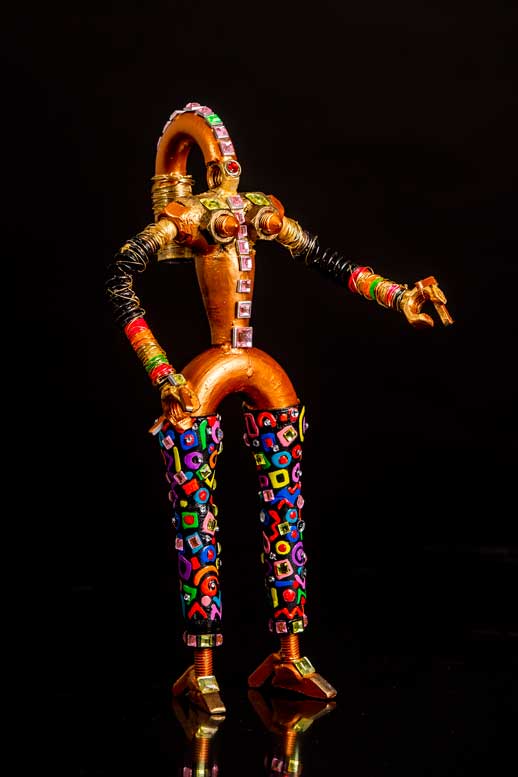 –
Donna Meccanica 2525
18×32 cm
Scheletro in acciaio Inox con saldature ad elettrodo ridefinito con smalti, filamenti metallici e cristalli colorati
2018-2019
Gladys Colmenares (Varese – Italy) è nata a Caracas in Venezuela si presenta con un repertorio di opere, dove la libertà espressiva sprigionata attraverso le colorazioni vivaci e multiformi cattura l'attenzione di chi guarda, sulle stesse frequenze della magia del momento creativo fissato per sempre nell'opera d'arte. Spesso sono "assemblages", formati da pannelli colorati, sui quali sono inserite mensole o scavate concavità, che sostengono oggetti di collezione, bamboline, piccole figure in legno o plastica scovati nei mercatini. Talora sono installazioni: così come nelle pitture–oggetto o negli assemblaggi, è ben presente l'aspetto ludico. Sono grandi o piccoli manufatti in cui si incontrano surrealtà, divertimento, invenzione; possono essere letti e compresi da tutti, grazie alla gioia visiva che sanno dare, la fantasia e la magia del colore. Nei "dipinti, una straordinaria capacità di elaborazione tematica consenti di affrontare in un linguaggio molto personale, la l'astrazione e le istanze metaforiche ritmate in guizzanti cromatismi". Cosi scrive dell'artista il critico Fabrizia Buzio Negri.
Nell'ambito della sua carriera artistica ha allestito numerose mostre personali e collettive, a Londra, Caracas, Praga, Berlino, Milano, Bologna, Roma, Mantova, Firenze, Genova, Venezia riscuotendo ampio successo da parta dal pubblico e dalla critica, ricevendo numerosi premi e riconoscimenti.
Paintings, sculptures and installations
Gladys Colmenares, born in Caracas, Venezuela, introduced herself with a fantastic repertoire of her work where freedom of expression is released through a series of vibrant colours which drives your attention in the same creative magic that captures the moment fixed for ever in her work. Often the "assemblages" made up of coloured panels in which are inserted shelves or carved concaves which supports objects like new and old figurines, some of which are collectors items found in markets and in many cities around the world. Sometimes the installations are object paintings or assemblages, well this is fun! They are large or small, artefacts that encounter surreality, fun and invention. They can be read and understand by all adults and children thanks to the joy that they visually give, they are unique full of happiness and colors. The paintings reveal an extraordinary capacity of power and address issues in a very personal language, abstraction and metaphorical instances and rythm in sparkling colours. This is how the art critic Fabrizia Buzio Negri rumorizes up the artist. During her carreer Gladys Colmenares had numerous solo and collective exhibitions London, Caracas, Praga, Berlino, Milano, Bologna, Roma, Mantova, Firenze, Genova, Venezia, receiving many achnowledgements and awards among the public and art critics.

Vote for this artwork! Follow Biancoscuro Art Contest on Facebook and Instagram then click like!
Vota questa opera! Segui Biancoscuro Art Contest su Facebook e Instagram quindi clicca like!