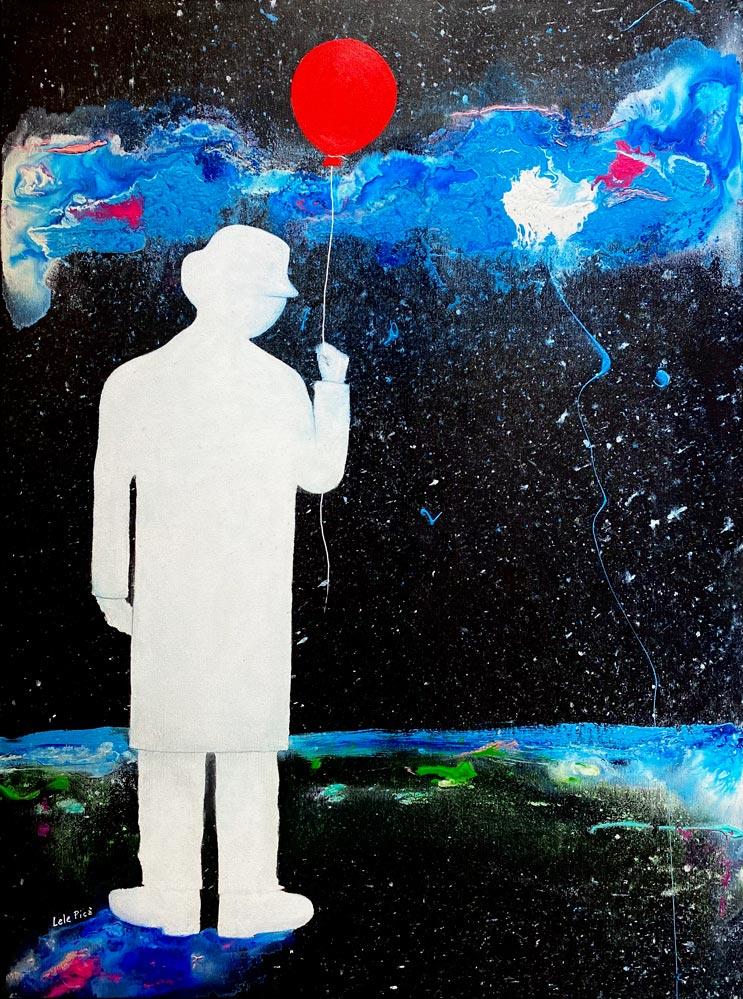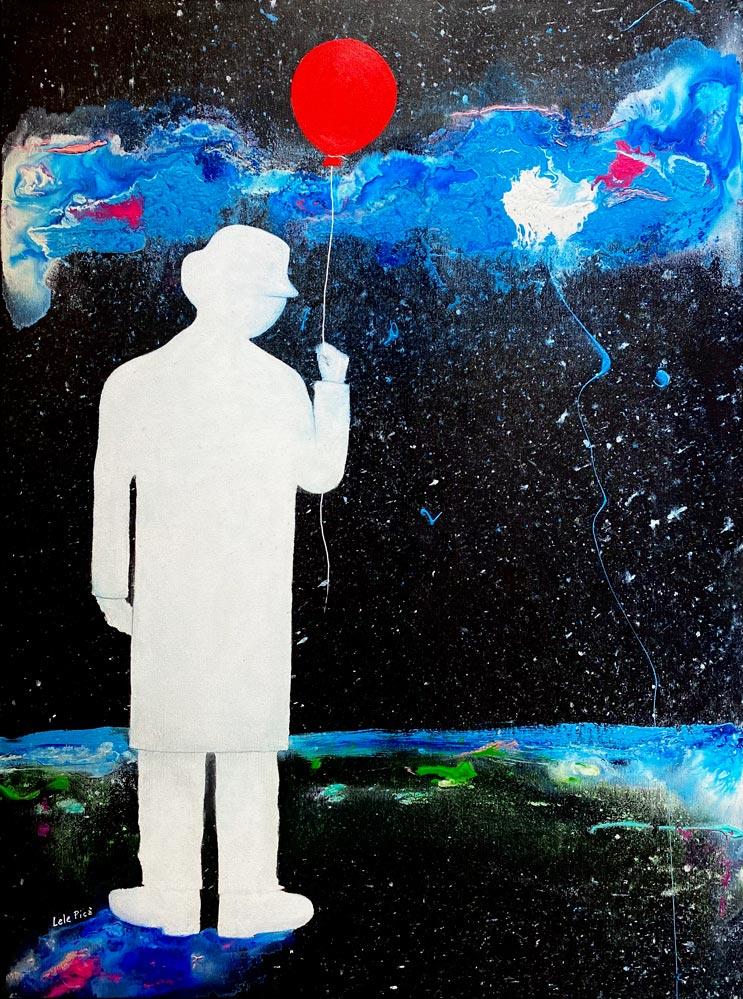 Via lattea
2019
tecnica mista su tela
50×70 cm.
Lele Picà (Voghera, Italy – 1979) si laurea in Architettura al Politecnico di Milano ed esercita la sua professione di architetto, arredatore, designer e professore di Storia dell'arte e disegno nella città diPavia, dove vive. Nel 2011 da una "illuminazione" nasce il punto di forza del suo percorso creativo; nel tempo, maturerà sempre più l'entusiasmo che lo porta alla ricerca di materiali e tecniche per esaltare l'intreccio tra pittura e luce. Il personaggio che caratterizza la sua pittura è l'uomo con il cappello, un personaggio umile, quasi un'ombra sulla tela ma portatore di luce. L'artista si identifica nel personaggio rappresentato nelle sue opere ed al quale affida il ruolo di narratore del suo percorso artistico. Un'ombra statica ed immobile impressa sulla tela, un uomo con il cappello e il cappotto dai gesti eleganti capace di divenire portatore di sogni e turista in lunghi viaggi. Nasce un percorso visivo nel quale il surreale trasforma il reale e che l'artista sceglie di intraprendere con chi, come lui, sceglie di immedesimarsi in quell'uomo dalle forme semplificate che, come un buon amico, guida lo spettatore in un viaggio soggettivo ed immaginario. L'unicità del segno diviene molteplicità cromatica nell'ossessiva ripetizione dello stesso. L'uomo gentile si espone all'occhio di chi osserva coinvolgendo la platea di astanti ad esprimere il proprio sogno che nell'insieme diviene un concetto molteplice. Il contrasto di colori e la moltiplicazione dei punti di vista creano molteplici connessioni tra l'uomo e gli spettatori che divengono un insieme infinito di individui e di molteplici sogni. Nel suo percorso espositivo LELE PICA' ha esposto a Pavia, Milano, Roma, Venezia, Firenze, Chiari, Cremona, Bologna,Bari, Pescara, Vigevano, Chieti, Zurigo, Zante, Ancona, Saronno, Tortona, Ortona, RAI2, Innsbruck.
"Ognuno di noi dovrebbe contaminare la realtà, lasciare che i sogni pervadano e creino la nostra visione del mondo. Ognuno di noi dovrebbe avere il suo palloncino colorato in mano".

Manuele Spelta alias Lele Picà was born in Voghera in 1979. He graduated in Architecture at thePolitecnico di Milano and exercises his profession as architect, interior decorator, designer and professor of art historyand design in drawing in the city of Pavia, where he lives. In 2011 from an "illumination" comes the strength of hiscreative path; which leads him to search for materials and techniques to enhance the interweaving between paintingand light. The character that characterizes his painting is the man with the hat, a humble character, almost a shadow on the canvas but a bearer of light. The artist identifies with the character represented in his works and to whom he entrusts the role of narrator of his artistic journey. A static and motionless shadow impressed on the canvas, a man with a hat and a coat with elegant gestures capable of becoming a carrier of dreams and a tourist on long journeys. A visual path is born in which the surreal transforms the real and that the artist chooses to undertake with those who, like him, choose to identify themselves in that man with simplified forms that, like a good friend, guides the viewer on a subjective and imaginary journey. The uniqueness of the sign becomes chromatic multiplicity in the obsessive repetition of the same. The gentle man exposes himself to the eye of the observer involving the audience of by standers to express their dream that becomes a multiple concept. The contrast of colors and the multiplication of points of view create multiple connections between man and spectators who become an infinite set of individuals and multiple dreams. LELE PICA' has exhibited in Pavia, Milan, Rome, Venice, Florence, Chiari, Cremona, Bologna, Bari,Pescara, Vigevano, Chieti, Zurich, Zante, Ancona, Saronno, Tortona, Ortona, RAI2,Innsbruck.
"Each of us should contaminate reality, let dreams pervade and create our vision of the world. Each of us should haveour own colored balloon in our hands."
Facebook: /Lele Picà II
Instagram: @lele_pica_
Web: www.lelepica.it

Vota questa opera! Segui Biancoscuro Art Contest su Instagram e metti mi piace a Biancoscuro Art Contest su Facebook.
Cerca la tua opera preferita e successivamente clicca LIKE o metti un CUORE per segnalare la tua preferenza. Il tuo voto contribuirà all'assegnazione del premio come giuria popolare.