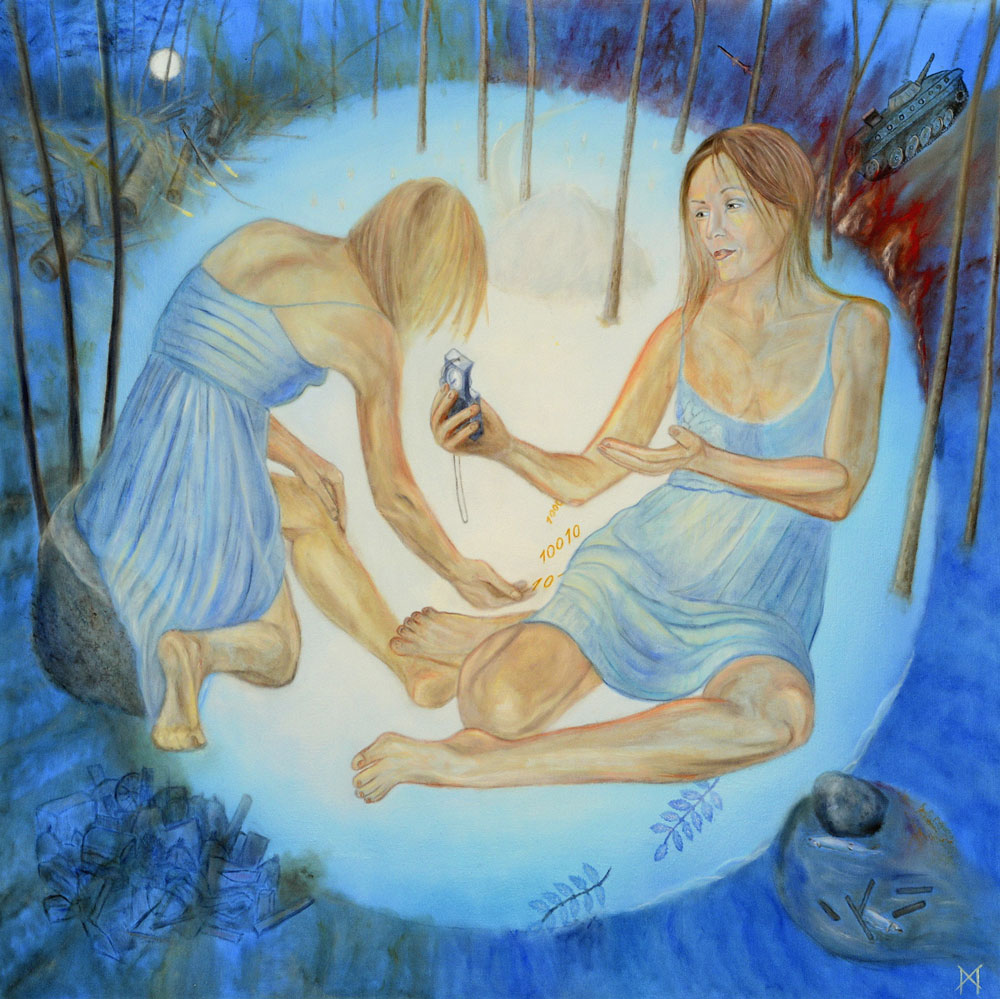 To set a Goal
100×100 cm
olio su tela
2018
–

Margaretha Gubernale  (Zug – Switzerland) .
The most of mystic pictures of Margaretha Gubernale are painted in
oil on canvas. The source of her inspiration are the nature and philosophy and
anthroposophy.She works nearly 30 years as an international artist. She was born 9.6.1941 in Switzerland and lives in Switzerland and Italy.
EXPOSITIONS
1983 Castel of elector, Mainz, Germany
1984 Art Cabinet Baden-Baden, Germany
1985 Centre Rodino, Napoli, Italy
1988 Biennale Quebec, Canada
1992 Galerie du Relais, Horgen, Switzerland
1993 Montserrat Gallery, New York, Broadway/Soho, USA
2005 Centre Cultural, Christiane Peugeot, Paris, France
2008 Olympic Fine Arts 2008, Beijing, China
2009 Akzenta Graz, Austria
2009 International Art Exposition "grenzenlos", Cham, Switzerland
2010 OFA Museum Sarajevo and City Hall of Banja Luka, Bosnia-Herzegowina, Croatia
2010 Museum Kiev, International Exhibition UKRAINIAN ART WEEK, Russia
2010 International Exposition, "Ukrainian ArtWeek", Museum Kiev, Russia
2011 St.Petersburg's ArtWeek, Russia
2011 Moscow ArtWeek, Russia
2011 AGORA Gallery, New York, USA
2012 UK-flags with OFAA under Unesco, Beireut, Libanon
2012 Broadway Gallery, New York, USA
2012 Museo Civico, Palermo, Italy
2012 Suisse Arte, Basel, Switzerland
2012 Forum Zugerland, Switzerland
2013 Affordable ARTE FIERA, Milan, Italy
2013 Galleria LO SPAZIO MUSEALE Sabrina Falzone Italy
2013 Museo Civico, Palermo, Italy
2014 1°Biennale, Verona, Italy
2014 GZgaleriazero, Berlin, Germany
2014 Artexpo, Pier 94, New York
2014 GZgaleriazero, Basel, Switzerland
2014 Tour Eiffel, Salle Gustave Eiffel,Grande Exposition Internationale, Paris France
2015 Biennale Palermo Expo con Vittorio Sgarbi, Loggiata San Bartolomeo e Palazzo Sant Elia, Palermo Italy
2015 HanseArt Lübeck, Musik- und Kongresshalle, Lübeck, Deutschland
2015 Bienal de Arte Barcelona, MEAM, Spain
2015 PRO BIENNALE VENEZIA, in concomitanza con la 56. Esposizione Internazionale d'Arte BIENNALE DI VENEZIA con la partecipazione straordinaria di Prof. Vittorio Sgarbi
2015 Rom Award, Piazza dei Popoli, Sale Bramante, Rom, Italien
2015 GZgaleriazero Basel, Switzerland
2015 Milano Art Gallery, with Amanda Lear, Venice, Italy
2015 Maestri d'Arte with Prof. Federico Caloi, Galleria del Centro d'Arte San Vidal, Venice, Italy
2015 Biennale Milano, with Prof. Sgarbi, Gallery, patronato Expo, Spazio Tadini, Milan, Italy
2015 Edimburgo i Segnalati, Dundas Street Gallery, Edinburgh, Scottland
2015 Contemporary Paradise, EA Editore, Palermo, Italy
2015 Exhibition Michelangelo International Prize, Jubilee, Palazzo Cardinal Cesi, Roma, Italy
2015 Exhibition Premio Internazionale, città di Noto patrimonio dell'UNESCO, convitto Ragusa, Noto SR, Italy
2015 International Exhibition Miami meets Biennale Milano, with Prof. Sgarbi, Hotel Victor, Miami USA
2016 Pro Biennale con Prof. Vittorio Sgarbi, Venice, Italy
2016 Triennale Verona, Verona, Italy
2016 Spoleto Arte a cura del Prof. Vittorio Sgarbi, Palazzo Leti Sansi, Spoleto, Italy
2016 Esposizione Cristiano De André,  Palazzo Leti Sansi,  Spoleto Arte, Milan Italy
2016 London Calling, The Crypt Gallery, London, United Kingdom
2016 Milano Art Gallery, Mostra Personale, Bassano del Grappa, Italy
2016 MILAN ART GALLERY, first price competition MARGHERITA HACK, single exposition, Milan Italy
2016 Video Esposition, Gran Prix Louvre, Paris, France
2016 Venezia in Art, Casanova Award, Venice, Italy
2016 Palaexpo, Verona, Shakespeare Award, Verona, Italy
2017 Artbox Projects, Miami, Videoscreen, Miami USA
2017 International Award Galileo Galilei, EA, Italy
2017 Ausstellung artgroupzug.ch, Musikhaus Unterägeri, Schweiz
2017 Biennale d'Arte, Peschiera del Garda, Italy
2017 Artbox Projects Basel 1.0, Euro-Airport Basel, Switzerland
2017 Videoshow Energia Creativa-Tra Astrazione e Figurazione, Palazzo Albrizzi, Venice,  Italy
2017 International Art Fair of Malaga, Spain
2017 Videoshow Caravaggio, Hilton Portomaso, St Julian's, Malta
2017 Biennale Milano, with Prof. Sgarbi, via delle Erbe 2, Milano, Italy
2017 International Prize Andrea Mantegna, Ass. Socio Culturale, EA, Mantova, Italy
2017 Price the Best Modern and Contemporary Artists, curated by dott. Salvatore Russo, Friedrichstadtkirche, Berlin, Germany
2017 Atelier EDERA Margaretha Gubernale. Licht der inneren Entwicklung und äusseren Erscheinung, Zug, Schweiz
2017 Exposition PAVILION SPOLETO, 57. BIENNALE DI VENEZIA, Milano rincontra Venezia, Vittorio Sgarbi, Venice, Italy
2017 Price Diana's Walk, Accademy Santa Sara, Alessandria,  Italy
2017 Weihnachtsausstellung Atelier EDERA Margaretha Gubernale, Zug, Switzerland
2017 International Art Exhibition, Miami meets Milano, Hilton, Miami, USA
2018 Mad Gallery, Milano, Videostream
2018 Esposition Art Capital, Grand Palais-Réunion des Musées Nationaux, Paris, France
2018 Exposition "L'arte delle donne", Milan Art Gallery, Milano, Italy
2018 Exposition artgroupzug.ch, Altstadthalle Zug, Switzerland
2018 Tokyo Int'l Art Fair, Tokyo, Videoshow, Japan
and others in Chine, Europe, Russia, USA
DISTINCTIONS
1983 Goldmedal of Kunstkreis Baden-Baden, Germany
1984 First prize of competition Florence-Europe, Italy
1986 Dame Commander of Sovereign Order of Saint John of Jerusalem, Malta
1986 Goldmedal Spain of Gold, Cristobal Colon, Madrid, Spain
1988 Certificate of excellence from International Art Competition, Metro, New York, USA
1991 Goldmedal of Académie des Beaux Arts, Maître Laznikas, Paris, France
1999 Prize 2000, Luca Roma, Italy
2008 Goldmedal of OFA Fine Arts 2008, Beijing, China
2009 Premio AGAPE, San Gaudenzio, Milan, Italy
2011 Diplom of St.Petersburg's ArtWeek, 3.place professional, Russia
2012 Premio dei Normanni, Palermo, Italy
2012 Premio Biennale Nobel dell'Arte, Montecarlo, Monaco
2013 Premio Personalità Europea, Bruxelles Belgium
2013 Oscar dell'Arte, Monte Carlo, Monaco
2015 Roma Imperial Award
2015 Premio Maestro d'Arte, Venice, Italy
2015 Art Ambassador, Marco Polo International Prize, Venice, Italy
2016 Oscar Accademy Award/ Miglior Artista dell' Anno, consulenze ed eventi arte
A.M.A. e F.E.B.A.Z. Sicily, Italy
2016 Primo Premio della Critica, Principe Salinas Gattopardo, Palermo, Italy
2016 First Price of the Competition MARGHERITA HACK, MILAN ART GALLERY, Milan, Italy
and many others
2016 Venezia in Art, Casanova Award, Venice, Italy
2016 Palaexpo, Verona, Shakespeare Award, Verona, Italy
2017 Cavaliere dell'Arte, Fondazione Costanza, Palermo, Italy
Award Galileo Galilei, Italy
2017 Metropolitan Art Prize, American Folk Art Museum – Moma, New York USA
2017 Premio Internazionale Diana's Walk , Accademy Santa Sara, Alessandria, Italy
2017 Semifinalist of National Gallery, De Gregorio, Accademia Santa Sara, Alessandria, Italy
2017 Professor of the Academy Santa Sara, Alessandria, Italy
2017 Oscar, Premio Accademico, Fondazione Costanza, with patronat of city Chieti, Italy
2017 Premio Paolo Levi, Palazzo Clerici, Milano, Italy
mentionned in many catalogues and books and local and international newspapers

Vote for this artwork! Please click Facebook like, Twitter, Pinterest and Google plus
Vota questa opera! Clicca Mi piace su Facebook, Twitter, Pinterest e Google plus