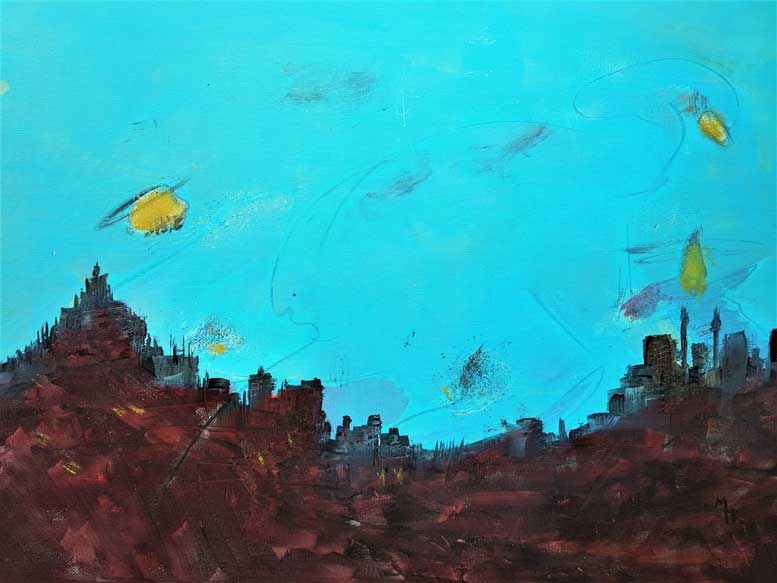 Paessaggio blu I
2018
Olio e tecnica mista su tela
60×80 cm.
Quello proposto da Monika Hartl è un astrattismo intriso di passione per la pittura classica, i suoi paesaggi "ridotti all'osso" sono un omaggio a Leonardo, Giovanni Bellini e Cima da Conegliano rielaborati in un'acuta e arguta nuova visione.

MH
Monika Hartl (Salzburg- Italy).
Lives and work in Salzburg (Austria)
Curator Activities in Austria and Foreign Countries
Board Member of art bv Berchtoldvilla Salzburg (Austria)
Exhibitions (Selection):
Universitätsbibliothek Salzburg (Austria)
Kunstbunker Geretsried (Germany)
Kunsthaus Troisdorf/Köln (Germany)
Kaapelin Galleria Helsinki (Finland)
Galleria Gjiutars Vantaa (Finland)
Arkos Galerija Vilnius (Lituania)
Al-Tarhal Gallery (Oman)                           

Vote for this artwork! Follow Biancoscuro Art Contest on Facebook and Instagram then click like!
Vota questa opera! Segui Biancoscuro Art Contest su Facebook e Instagram quindi clicca like!