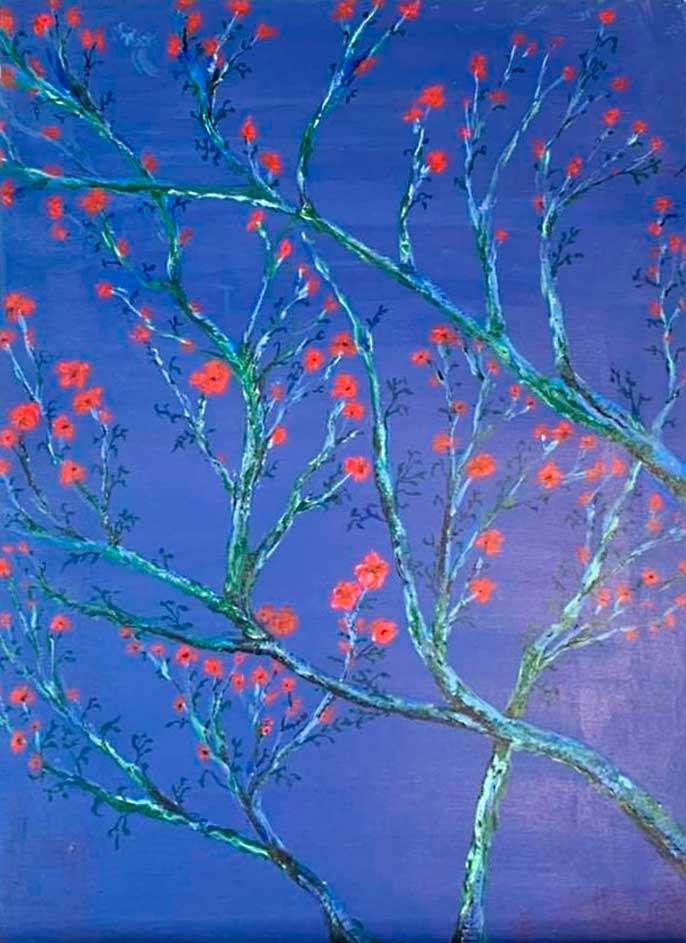 Tree of light
2021
acrilico su tela
16.5×23.4 inch
Sidrah Hakim (Pune – India). My journey of Art has spanned over two decades beginning from 1995, with four years of learning before that under the guidance of a very senior artist. This journey has brought me to where I am today with the desire to expose my art to all those who would feel the same as I feel about life through art.
The subject of all my art varies depending on my state of mind in that phase of life, therefore they span from spiritual, landscape, seascape, and even abstract. I hope this journey inspires and creates a sense of calm to all those who set their eyes upon it.
You see, it all started when I was in the 6th grade and tried my first painting. I still remember clearly it was a water colour painting of a vase with roses in it. From then on I used to look forward to every ART class and I would paint away from rivers to clouds and simple landscapes. I knew from that age that I just loved to paint, but never took it seriously as I had to complete my education, and then life happened…..however, I never gave up on painting. I took classes as a teenager and evolved to higher subjects and mediums like oil paintings. I've been painting in oils for over two decades now.
I quit my desk job of about 17 years and decided to pursue my passion for ART. I changed my outlook overnight and started working on Wrigglingworm Studio. The goal is to dedicate this online space to all things related to ART. From Selling paintings to sharing information related to art (in the blog section) or going on a journey of ART from the basics (in the video section), there are no limits…
I believe that Life is an ART….
I love what I do, and I love the transformations I help my clients achieve. To bring peace in their environment is my only goal.
Being an artist is my why, my purpose, and what makes me jump out of bed each morning.
Exhibitions:
Participated in BIANCOSCURO Art Contest 2019
Participated in Montreux Art Fair 2019 – Stand BIANCOSCURO – 6-10 nov. 2019
Participated in Art Innsbruck Edition – Stand BIANCOSCURO 16-19 January 2020
Publications and Reviews
BIANCOSCURO ART MAGAZINE, Italy.
WEB: www.wrigglingwormstudio.com
Facebook: /WrigglingwormStudio
Instagram: @wrigglingworm_studio

Vote for this artwork! Follow Biancoscuro Art Contest on Facebook and Instagram then click like!
Vota questa opera! Segui Biancoscuro Art Contest su Facebook e Instagram quindi clicca like!