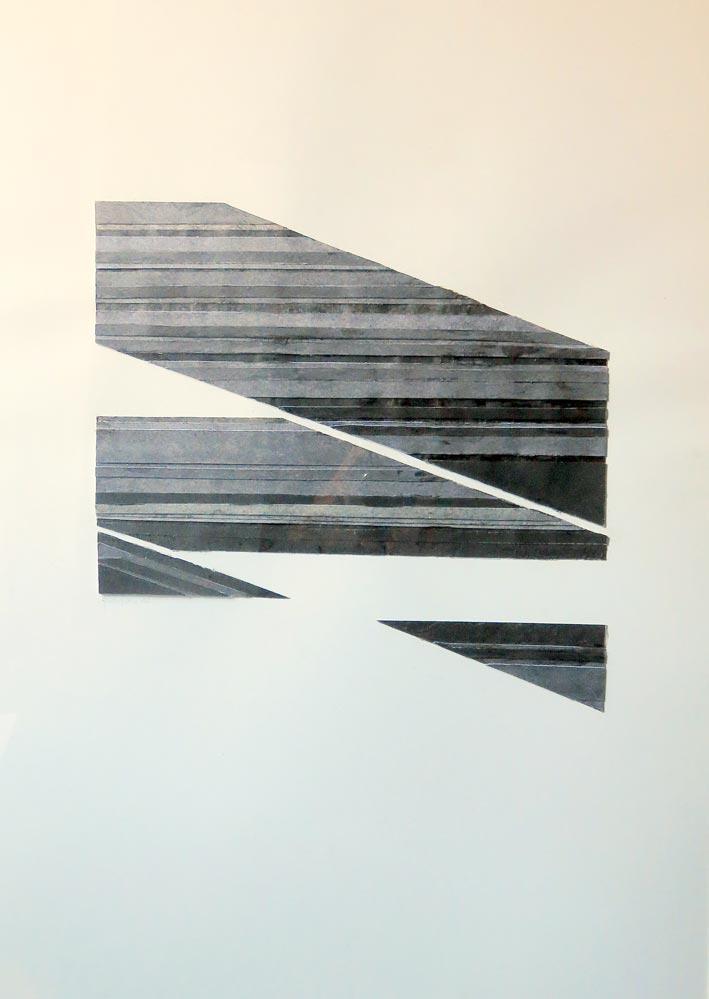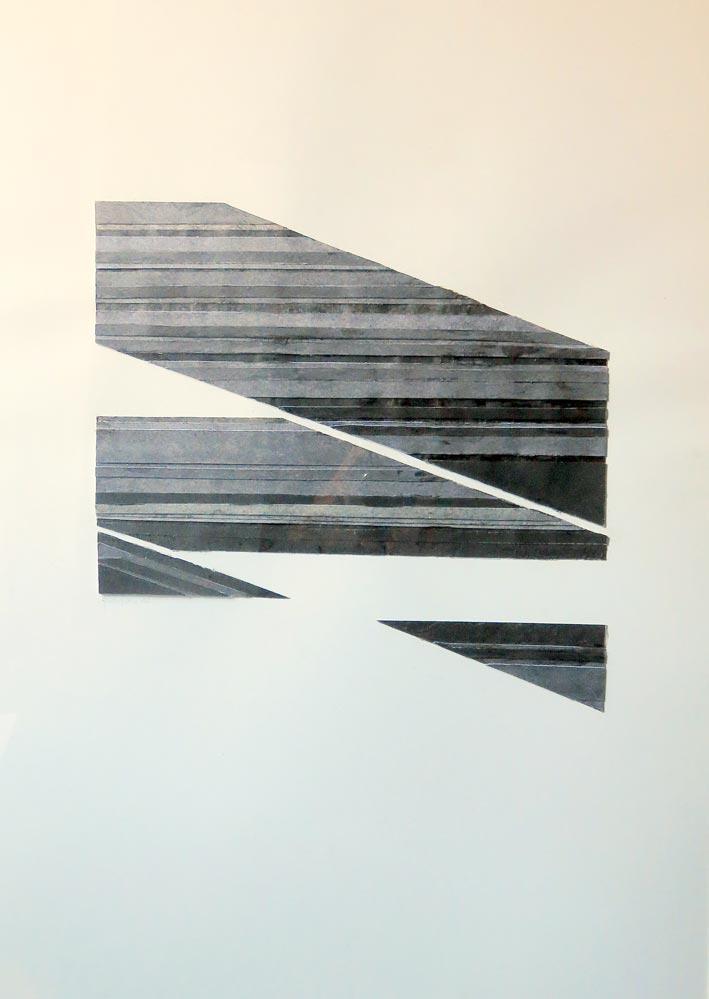 APORIA ll
collage con cartoncino
50×70 cm.
Jaume Rocamora (Tortosa, Spain – 1946) nel 1965 tiene la sua prima mostra personale al Circolo Artistico di Tortosa. Nel 1978 presenta la mostra "Els Cartrons i Rocamora" all'Ateneo de Barcelona.
2005 – Mairie du 9éme Anondissemenl/Mlle de Lyon; Galeria Collage / Lleida. MudéjArt / Museu Juan Cabré de Calaceit. Galeria d'Art El Palauet / Tortosa. Laberint / col.laboració de Joan Bagés i Meritxell Peiret /AnticAjuntament de Tarragona.
2006 – Geometria y Colorl Galeria Felisa Navarro / Vitoria. Gaubances / Centre d'Art i Cultura Contemporanis -Fundació Rodríguez Amat / Les Olives. Canejaments / Tone Vella / Salou. Vessilli / Sala Congressi Museo di Arte Contemporánea / Albisola Mare. Cálida Construcció 1966-2006, retrospectiva / Sala Caixa Tarragona y Biblioteca. Sebastiá Juan Arbó. Amposta. Série Rietveld / Galeria Antoni Pinyol / Reus.
2007 – Una Geometria del Color / Foro Santos Ochoa / Logroño. Cálida Construcció '1966-2006, retrospectiva / Museu de I'Ebre / Tortosa. Cálida Construcció 1966-2006, retrospectiva / Museu d'Art Modern / Tarragona. Opalins Transitoris / obra efímera / IES / Roguetes. Tractats d'Artífex / escultura I Espai Tosses d'Amposta. Destins I Biblioteca Marcelino Domingo / Tortosa. Cálida Construcció 1966-2006, retrospectiva / Museu de la Noguera/ Balaguer. Tractats d'Artífex ll / escultura / Tortosa.
2008 – Circuito Alfa Romeo "lo que no puedes perder de la feria"' /Art Madrid 08/ Madrid. Geometries Tanagona-Milá I Oracio Baccí-Jaume Rocamora I Galeria Llac / Tarragona. Rietveld: Un lenguaje, Rocamora: Una forma de diálogo / col'laboració de Joan Bagés i Mertlxell Peiret I lnstituto Cervantes / Utrecht. Preceptes Consolidats / Galeria A+B / Granollers.
2009 – Preceptes Consolidats/ Caixa Taragona lAmposta. Elements de conducta i transport / instal'lació d'atuells musicals 't.0 / música de Joan Bagés. Convent de San Salvador d'Horta de San Joan. Rocamora una lengua una forma di dialogolFortezza del Priamar-Polveriera / Savona.
2010 – Gaubances / col'laboració de Joan Bagés i Merikell Peiret I MUCBE / Benicarló. 1+1+1 / The Belfry / Kaleided Editions i St John Bethnal Green / Londres. The London Art Book Fair / Vúhitechapel Gallery / Londres. Oda a lo efímer /Taller Cinta Dalmau /Tortosa, The New York Art Book Fair I MOMAs PS1 / New York. American ArtAcademy / Chicago. ContemporaryArt Space at Hackney Downs I Londres.
2011 – Encast Determinant / Centre Ovidi Montllor / Alcoi. Les Celosies de Penélope / interpretacions musicals / Joan Bagés / Théátre du Petit Miroir I lssi-les-Moulineaux . Une langue Rocamora, une forme de dialogue / Mairie du 9éme Arrondissement i Ville de Lyon. Geometries Msualitzades / orgue / efectes musicals / Joan Bagás I Palau Oliver de Boteller / Tortosa.
2012 – Agencements combinatoires et utopie / Museu d'Art Modern de Collioure.
2013 – Analítiques / "No colof'projecte holophnid Cecillia Aymí i Joan Bagés / Centre d'Arts Visuals lArts Santa Monica / Barcelona, <<…………simbiosi permanent», Col.legi d'Aparelladors iArquitecles Técnics / Mataró.
2014 – Rocamora : Suite Collioure 2A13-2AM I Musée d'Art Moderne I Collioure. Claret / Rocamora, sota I'aparenga / Fundació Vila Casas / Barcelona.
2015 – Suma al quadrat I Esola d'Art i Disseny / Tortosa. Rocamora: una forma de diálogo / Universidad de Na4tes / Nantes.
2016 – Les Variacions Rocamora / Museu de Montserrat. Les Variacions Rocamora I Taller d'Art Cinta Dalmau / Tortosa.
2017 – Jaume Rocamora / Dibujo / Museo de Dibujo Julio Gavin / Larrés.
2018 – Proposta per a una col'leccio / Museu de Tortosa /Tortosa. Tractats d?rtífex / Casino Ampostino / Amposta.
2020 – Teles e Draps e Vent de Dalt / Centre CulturelAhrimenti / Luxemboug Les variacions Rocamora o Flor de neu / Museo Francisco Sobrino l Guadalajara
2021 – Reencuentros en Quesada / Museo Rafael Zabaleta I Quesada
2022 – Forma y construcción I Fundacigon Merayo I Santibañez de Porma.

Vota questa opera! Segui Biancoscuro Art Contest su Instagram e metti mi piace a Biancoscuro Art Contest su Facebook.
Cerca la tua opera preferita e successivamente clicca LIKE o metti un CUORE per segnalare la tua preferenza. Il tuo voto contribuirà all'assegnazione del premio come giuria popolare.