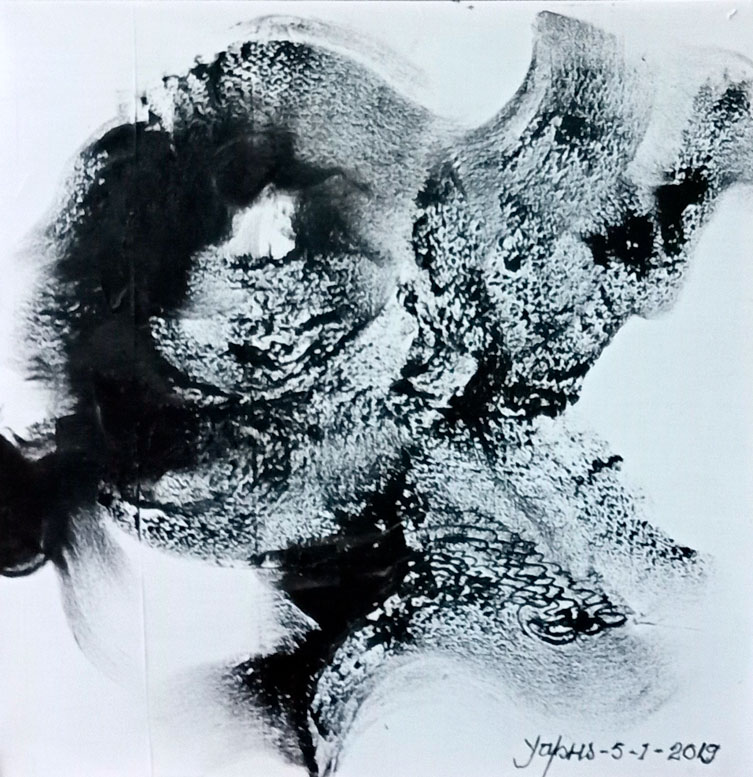 –
Untitled (lines colors and textures are everyday toys)
50x50x3 cm
mixed media on waterproof canvas
201
Yulianus Yaps (Bali  – Indonesia). My legal name is Julianus. My artist name is Yulianus Yaps and signature at my work is Yap HS.
"I was born on September 16th, 1950 in Indonesia. I'd love to draw since childhood and I learned to paint self-taught. My current works is Contemporary Abstract". When I was a boy I liked drawing very much and my dream will be a painter at the future , when I grow up. Unfortunately, I never got a chance to go to art school. I love fine art very much, so from I was a young boy until I have married and have children I spent many years to learn or study art painting by myself or autodidact. Till the last 1995 I have collect more than 3000 pieces of my works there are sketches water and oil colour paintings. At the end of 1995 there were a disaster (flood) had been hit my house for about two week that had destroyed almost all of my works that I have collected more than 25 years. Since that time I have tried various materials to create waterproof painting. Finally I found silicon rubber as a media to mixed with oil color with exactly composition I created my original waterproof paintings. I love abstract art. For loving abstract art I have spend a long time journey and adventure of imagination. Abstract art gives me freedom to express or to explores in deep the nature inside my soul. Inspired of lines, shapes, unique forms, colours and especially textures with strong and spontaneous those are the characteristic of my works.
Since 2017 I focus to make big painting with one panel 210cm x 100cm, now I have made 30 panels. It means that I have made the painting with size 210cm x 3000cm and this is still go on, I hope at the end of 2018 I will make more than 10000cm long. Everyday I do not get tired of painting to pursue my dreams as a painter despite having to arrive in old age.
These are my some art activity,
• 2006 collective exhibition JW Marriot Hotel Jakarta.
• 2014-2015-2017 got Special Merit Category & Special Recognition Category Awards from Light space & time.
• 2017 selected at the Biancoscuro Art Contest Winter Edition finalist April at Monte–Carlo Bay Monaco.
• 2017 one of the winner Biancoscuro Art Contest.
• September 14-November 26 Itsliquid International Art Show ANIMA MUNDI-VISIONS at PALAZZA CA'ZANARDI VINECE ITALY.
• International Exhibition of Contemporary Expo touring Egos XIV Brugge Sala Mozart.
• 6-15 October 2017-Oud Sin Jan Museum. Belgium,
• 2-8 December 2017 Borgo Gallery II Roma ITALY.
• 1-30 November 2017 joined ITSLIQUID GROUP ALCHEMIC BODY | FIRE.AIR.WATER.EARTH. International at Jorge Jurado Gallery.
• 25-28 January-2018 exhibition at ART INNSBRUCK in Pavia, ITALY by Biancoscuro.
• Participation at International Art Exhibition-Art Festival Porto at Porto Art Gallery 10-23 March 2018.Porto.Portugal.
• Collective exhibition at ART MONACO.MONTE-CARLO from 26 to 30 April 2018.
• Selected on first round of Da Dun Exhibition of Taichung City 2018.
• April 2018 got honourable mention certificate from Art Room Online Gallery for my black and white painting.
• 11th to 13th May 2018 exhibition in Pavia, Italy by Biancoscuro.
• 11th to 17th June 2018 will exhibition in Berlin, German by Artness System.

Vote for this artwork! Follow Biancoscuro Art Contest on Facebook and Instagram then click like!
Vota questa opera! Segui Biancoscuro Art Contest su Facebook e Instagram quindi clicca like!